Feature Interview on School for Startups: Future Proof Sales Strategy
Pleased to have talked with Jim Beach in an interview discussing the seven steps to a Future Proof Sales Strategy and other key insights.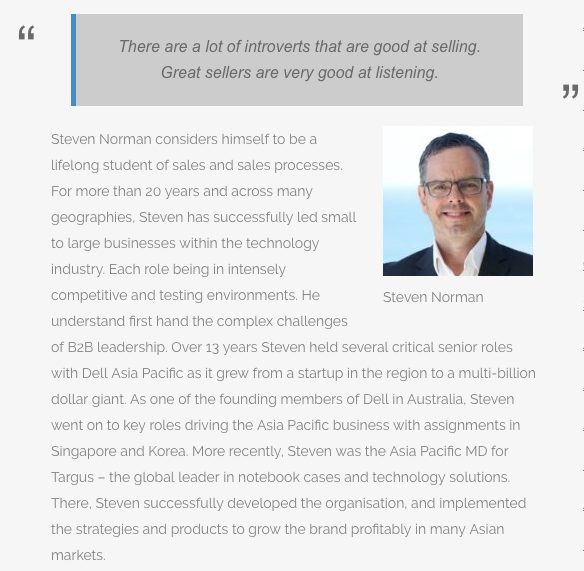 I talk with Jim about developing a sales structure that really reflects what's happening with our customers, and why.
Have a listen to the full interview here
Some points from the interview:
Yeah, well the balance of power has definitely shifted from sellers towards buyers over the last decade. If you think about the access to information that buyers have today, they don't need a sales person to get product information or to get industry information or to find out what other customers are doing.
So wherever possible the buyer is doing their own research on your product. We'll focus on the solution for their business before they even engage with sales. So they have a tremendous advantage for when they do engage with sales people and so that's the buyers getting better and the sellers have not been getting better as fast as the buyers have been.
Most sales organizations have not transformed. There's always going to be room very good salespeople that bringing value to to the customers.
And as mentioned before, it's not so much about personality. There are actually a lot of introverts that are very good at selling, there's a lot of technical people that are very good at selling. Great sellers are very good at listening; they're very good at understanding customers; they are very good at giving them the right advice and the right solution. So those types of sales people will do very well the sales.
Business people don't have time for relationships that don't deliver value anymore.
There are some traits that are very important in the sales person and it's more like listening skills.
The Future Proof Sales Machine has seven steps. Where I start is we need to have the right sales structure that really reflects what's happened with our customers. So our customers have become much better informed. They also have been pretty protected by their existing suppliers, applying customer experiences to an extent that we've never seen before. So it gets much harder to break into new accounts.
We also have a situation where our products and services are getting increasingly monetized so again that's another challenge for us to make a difference when we meet with a customer.
I really believe we need to be specializing our sales roles and ideally we want to have specialized teams. You know teams and capabilities that are absolutely fantastic at prospecting, teams that are absolutely fantastic at progressing the deal and taking it through to completion and then we want to have specialists who are managing the customer after we've done a deal, someone who will make sure the customers getting full value for the investment they've made.
Thoroughly enjoyed this interview, there's a lot of valuable content on School For Startups Radio, check it out http://schoolforstartupsradio.com/about-us/
Would love your comments!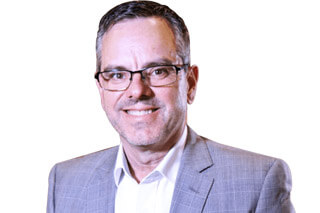 Steven Norman
Steven Norman is an accomplished frontline sales and business leader dedicated to helping B2B sales leaders upgrade their knowledge and skills, build next-generation sales teams and turbo-boost their careers. Over a 25 year career Steven has been responsible for more than US$4 billion of sales with major tech companies such as Dell, NEC and Targus across the Asia Pacific. Recent years of intense B2B sales research and analysis led to the foundation of Growth Acumen, a modern sales and leadership development advisory service. In 2019 Steven released his New Book "Future Proof Sales Strategy." Seven steps to equip sales leaders with the tools to rise above the complex challenges facing the B2B sales industry.